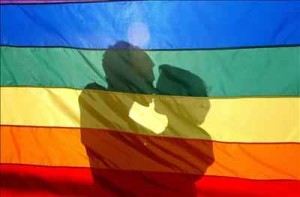 (SILETZ, OR) The Siletz Tribal Council approved marriage and dissolution of marriage ordinances during its meeting on May 15, 2015. The ordinances apply equally to couples of the opposite sex and to same-sex couples (at least one person of each couple must be a Siletz Tribal member for the laws to apply). The ordinances became effective upon approval.
The Tribal Council's actions followed a General Council advisory vote that favored the passage of both ordinances by a 336 (yes) to 169 (no) vote. Those eligible to cast an advisory vote included all enrolled members age 18 and older. The General Council comprises all of the 5,001 members of the Confederated Tribes of Siletz Indians.
There was some concern with the call for an advisory vote of the membership before the council's final enacting vote because it could give the impression that the Tribe believes it appropriate for equality issues to be decided that way, or that a simple majority vote can legislate discrimination – if the ballot count turns out that way. But with this being an advisory vote and not a binding vote, it went forward.
"The Siletz Tribe is committed as a government to serve its people well and treat all members with the respect, dignity and equal protections under Tribal law that they deserve," said Robert Kentta, Tribal Council member. "When approached with the request for the Siletz Tribal Council to establish a Siletz Tribal Marriage Ordinance – and for it to be specifically inclusive of same-sex couples and treat all adult Tribal members equally in this regard – it was a fairly simple process to get that ball rolling. We did not have an existing ordinance that dealt with recognition of marriages to amend, so our new marriage law is inclusive from its inception. It is also important to recognize that ancient Tribal traditions, beliefs and practices that amount to the law of our ancestors are consistent with the concepts of marriage equality in the ordinances just passed."
The impetus for the ordinances came from the Siletz Change Team, formed in 2010 with support from the Western States Center, which formed a partnership and provided both grant-support and trainings/collaborative dialog to further the team's work. The center is a regional organization that works with various groups to advance racial, gender and economic justice in their communities.
The Lewis & Clark College Indigenous Ways of Knowing (IWOK) Program, led by Se-ah-dom Edmo (Shoshone-Bannock/Yakama/Nez Perce) also contributed greatly with its education, training and supportive work around traditional diversity of gender roles and traditional cultural recognition of same-sex couples in Tribal communities.
Edmo pulled together a collaborative team that produced a "Tribal Equity Toolkit" for Tribal governments to use in developing equality-based law around marriage in their communities.
"The Change Team was organized through funding and support provided by the Western States Center and IWOK was a collaborative partner from the start. The team's mission was to conduct a review of all Tribal policies, ordinances, codes, etc., to make sure that our members were all treated fairly and equally without regard to sexual orientation, gender identity, etc. We soon found that our various bodies of policy and law were already generally inclusive and welcoming to all Tribal members and clients that we serve," said Kentta. "We did make some changes to make intent clear and make wording consistent so all are treated equally, including Two-Spirit and same-sex households. It felt good to know that dramatic changes were not needed. The Siletz Tribal Marriage Ordinance is just the natural next step in providing our members with the tools and community support needed to live the fullest, happiest and most productive lives possible, regardless of who they fall in love with."
With the passing of these two ordinances, the Siletz Tribe joins at least 22 other Tribes that provide legal recognition of same-sex couples in their communities, including the Coquille Indian Tribe in Oregon and the Confederated Tribes of the Colville Reservation, Port Gamble S'Klallam Tribe, Puyallup Tribe and Suquamish Tribe (all in Washington state).
"The Siletz Tribe thanks our sister Tribes that have previously taken such legislative action to protect their members and communities, and express their living cultures. We thank them for their leadership and courage to stand up for what is right," said Kentta. "We can now be counted among you and look forward to others also taking this important step. It's about treating all Tribal members with equal respect and dignity – and recognizing and supporting their natural ability to make important life decisions for themselves."