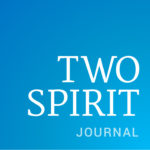 TwoSpiritJournal.com is an interactive multi-platform #Two-Spirit media/news site.
2SJ provides original content of news and current events to educate, build connectivity and to put a face and voice to the diverse & vibrant Two-Spirit community in the United States and Canada.
2SJ is the first of its kind multi-platform Two-Spirit media outlet provides the following:
Coverage of current events,
Calendar of upcoming events,
News stories and pieces on recent Two-Spirit research,
Editorials/Position Papers,
Leaders Corner – each month a leader or community leader will be featured
Community Dialogue – each month a question is posed and community members are asked to provide a video (youtube) response,
Monthly Two-Spirit features on an array of topics headed by content experts/editors,
Daily Words of Wisdom (DWOW) a daily devotional, meditation, and other words of spiritual wisdom and encouragement emailed each day.