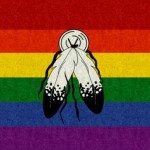 (WASHINGTON, DC) Indian Health Service (IHS) is seeking broad public input as it begins efforts to advance and promote the health needs of the American Indian/Alaska Native (AI/AN) Two-Spirit community members.
"IHS is taking an important step to better serve the healthcare needs of the Two-Spirit community. In comparison to other racial/ethnic groups, Native people suffer from glaring disparities in health-related resources and outcomes. Specifically, morbidity due to violence and substance use is higher and overall mortality is greater. Those who identify as LGBT-2S face additional stressors associated with negotiating their dual oppressed statuses," said Dr. Karina Walters of the University of Washington's Indigenous Wellness Research Institute.
The goal of this information gathering is to gain a better understanding of the health care needs and challenges of Two-Spirit individuals so IHS can implement health policy and health care delivery changes to improve and advance the health care needs of the Two-Spirit community. The agency is seeking to increase community access to and engagement with IHS leadership and secure a legacy of transparent, accountable, fair, and inclusive decision-making specific to Two-Spirit people within IHS.
IHS requests public comment on several key dimensions of the health needs of the Two-Spirit community, including but not limited to the following questions:
Are there effective models and best practices surrounding the health care for the Two-Spirit community that should be considered for replication? Please include rationale for their use in the IHS service population.
What are the specific measures that could be used to track progress in improving the health of Two-Spirit persons?
How can IHS better engage with stakeholders around the implementation of improvements?
Are there gaps or disparities in existing IHS services offered to Two-Spirit persons?
What additional information should the agency consider while developing plans to improve health care for the Two-Spirit community?
Comments must be received no later than 5:00 p.m. Eastern Daylight Time on July 6, 2015.
Electronic responses are encouraged and may be addressed to lisa.neel@ihs.gov or written responses sent to:
Indian Health Service
Attention: LGBT Feedback
801 Thompson Avenue
Suite 300, Rockville,
MD 20852
For more information here is the link to the US Federal Register's Notice of Request for Information: https://www.federalregister.gov/articles/2015/06/05/2015-13774/notice-of-request-for-information#h-6