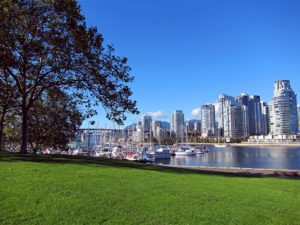 (Vancouver, BC) The City of Vancouver's Park Board is looking to fill a position – Program Assistant II – Trans*, Gender Variant & Two-Spirit (TGV2S). This position will be key in assisting Park Board staff with the implementation of the "Building a Path to Parks and Recreation for All: Reducing Barriers for Trans* & Gender Variant Community Members". The pay grade is coded as GR-12 at a rate of $21.61 to $25.33 per hour and is 25 hours per week May through December 2017 and be located at the Park Board administrative office however, the successful incumbent will be required to travel to various Park Board facilities on a regular basis.
After reading the below qualifications, interested individuals can apply here and the application close date is April 28, 2017.
This position will report to the Coordinator of Access and Volunteer Services, the successful candidate will act as a resource to Park Board staff on TGV2S awareness, collect lived experience stories from TGV2S community members, answer telephone and in person inquiries regarding the Park Board TGV2S programs.
In addition to providing program support to members of the TGV2S community this position will be responsible for liaising with the Trans and Gender Variant Inclusion steering committee and Park Board staff at the various community centres, arenas and pools to lead TGV2S awareness sessions, facilitate TGV2S customer service training, assisting customers who attend Templeton Pools Sunday Trans* Swim program and additional duties and responsibilities as assigned.
Qualifications:
Education and Experience:
Member of the trans*, gender variant or two-spirit community
Completion of grade 12 and some related experience
Experience and or training in community engagement and facilitation or an equivalent combination of training and experience.
Valid BC Driver's License is preferred.
Knowledge, Skills and Abilities:
Working knowledge of the needs and interests of the trans*, gender variant, and two-spirit residents of the City of Vancouver
Ability to communicate effectively orally and in writing
Ability to demonstrate active listening skills
Ability to communicate effectively to individuals and in a group setting
Ability to assist in the planning and execution of special events
Ability to work collaboratively
Ability to work independently
Knowledge and ability to work with MS Office (Word, PowerPoint, Excel, Publisher)
Driver License and Record Checks
A Police Record Check is a requirement of this position. A clearance requires the absence of any criminal charges or convictions related to this position.
A current and valid BC Driver's License and a safe driving record is preferred and the license must not include any restrictions that would affect the ability to legally and safely carry out job responsibilities.
Local area travel and transportation arrangements must meet the operational requirements