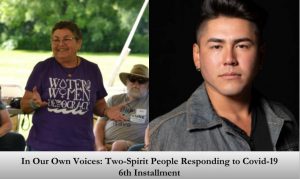 The #Two-Spirit Journal is excited to share the sixth installment in this series of Two-Spirit people across this Turtle Island sharing their personal observations and reflections of the current Covid-19 pandemic we are experiencing.
In this installment, you'll be hearing from Sharon Day, the respected elder in our Two-Spirit movement. Sharon was one of the lead organizers of the first-ever International Two-Spirit Gatherings and is one of founders of the Indigenous Peoples Task Force. We also will hear from the talented Two-Spirit actor, Andrew White-Martin. If you've not seen "Fire Song," add it to your must-see-list!
The Two-Spirit Journal encourages and welcomes submissions from any reader who wants to partake in this series, send your responses or questions to [email protected]. Two-Spirit Journal thanks everyone who has already answered this call and has sent in their responses. Keep the responses coming in, and they will be posted!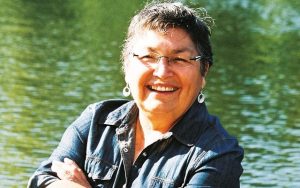 Sharon M. Day, Ojibwe is enrolled member of the Bois Forte Band of Ojibwe and is one of the founders of the Indigenous Peoples Task Force (IPTF), formerly known as the Minnesota American Indian AIDS Task Force.  IPTF began as a volunteer organization (1987) with all of the work performed by the Board of Directors.  In September of 1988, IPTF hired its' first staff.  Ms. Day was hired as the Executive Director, May 1990, and has served in this capacity since then.  IPTF has strived to ground its' services in the culture of American Indian people. Sharon M. Day is 2nd degree M'dewiwin and follows the spiritual path of the Anishinabe people. She is a talented artist, musician, and writer. She has led 5 Water Walks.  The southern direction of the Mother Earth Water Walk which began at Gulf Port, Mississippi and ended in Ashland, Wisconsin, the Mississippi River Water Walk, the Seneca Lake Water Walk, the Ohio River Water Walk, and the Pokegama Water Walk.  Each walk is ceremony to save the life-giving force of water.
The first week of Minnesota's stay at home order was kind of a "frozen or foggy" period but each day at 5 pm I smudged the house with sage and cedar.  I also lit my pipe each day to pray for others.  Eventually, I wrote the prose "In These Days" to share with others.

In our stories of when the earth cleansed herself in other times, the stories all begin with, the people were fighting with each other.  In times like these, we reach back to our spiritual ways, if we remember our teachings.  I thought it might be good to share with people some words of hope. This is not a prescription simply my own daily rituals acquired over the years. I began walking 1.5 miles to exercise my physical being.

Nagamoo Ma'ingen indishnikaz.  Wahbazheshi indodem, ojibwe indow.

In these days

Chi Migwetch for my morning rituals
First gratitude to the water
That flows from the overhead shower head
like gentle rain to cleanse my physical being
Then Migwetch to the water used to brew my
Mukademashkikiwaboo
Migwetch to the elderberries and honey used to make the syrup
And apple cider vinegar these are my morning concoction.
Migwetch to the cedar trees in my front yard
The small leaves simmer slowly on my stove
For tea to cleanse my lungs
the steam to cleanse the air
As the day wears on
I contemplate the songs
Our sacred items
I shut the tv off
No sounds other than my own voice
As I sing
Sing for these medicines
And The helpers
The sacred items
Obsidian bowl
Sumac tree
Asemaa.
Sage.
Cedar.
Together they are everything.
The vibrations we need for healing
Everything.
SDay. 3-26-20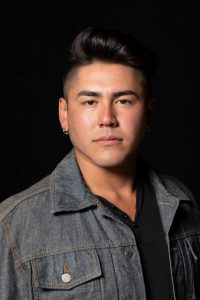 Andrew White-Martin is Mohawk, born and raised on the Six Nations of the Grand River Territory. His first feature film role was in the internationally acclaimed film "Fire Song". He recently wrapped shooting on the feature "Quebexit" and was nominated for Best Supporting Actor by the American Indian Film Institute for his work in the feature film "The Incredible 25th Year of Mitzi Bearclaw" in 2019.
With the time to sit and take a look around that Covid-19 has brought with it, I've definitely noticed the effect it has had on myself personally and others around me.

For myself, it's been getting used to not always being on the move, or not always being busy, the routine of my normal day to day. For those around me, it's really the same, lack of normal routines and face-to-face human contact.

For many, myself included, it is the anxiety of loss of work due to the virus as well. I am a server/bartender in my day-to-day and can no longer work. I also did have a Q&A and film screening scheduled, as well as speaking at a Two-Spirit Engagement session in Yellowknife but those have all been postponed or cancelled.

I have been in isolation since I returned from a short vacation just before the limits and lockdowns started. My isolation is almost up, but I will continue to distance myself. To keep busy, I've really just been doing the things I don't normally take the time to do, like reading, or watching movies and tv shows.

When they come in, I do self-tape auditions. Learning to sit back a bit has been a challenge, but I want to take advantage of it also, by doing what I used to do and maybe learning a new thing along the way too. Maybe learn a new language. I do miss being able to go out and meet friends or even just going to work since that has come to standstill as well.

In the end, patience and social distancing will do us all good in the end.