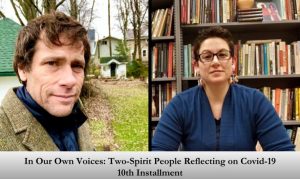 The Two-Spirit Journal is excited to share the next and 10th installment in this series where Two-Spirit people across Turtle Island share their personal observations and reflections of the current Covid-19 pandemic that we are all experiencing.
In this installment, we hear from Trevor Stratton, one of movement's HIV/AIDS warriors, and Jenny Davis, an amazing scholar and Two-Spirit leader and advocate.
The Two-Spirit Journal welcomes any and all submissions from anyone who wants share your personal observations and reflections of how you are dealing in these uncertain times of COVID-19; if you are self-isolating, what are you doing to keep yourself busy, what are you thinking about, and what do you miss the most. Send your responses (in any format: video, voice recording, in writing or anyway else you want to) or if you any questions or need more info to twospiritjournal@gmail.com.
Two-Spirit Journal thanks everyone who has already answered this call and has sent in their responses. Keep the responses coming in, and they will be posted!
Remember keep safe! As Gayle Pruden stated so beautifully in the second installment of this series, "Praying, singing, dancing and laughing are my medicine and washing my hands, not touching my face, practicing physical distancing and finally staying home if I'm sick or if I possibly came in contact with Covid-19!"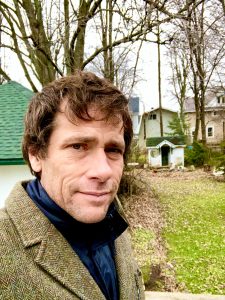 Trevor Stratton is a 55-year old, Two-Spirit citizen of the Mississaugas of the Credit First Nation near Toronto, Canada with mixed English and Ojibwe heritage. Diagnosed with HIV in 1990, he is now the Coordinator for the International Indigenous Working Group on HIV & AIDS (IIWGHA) for its host organization, the Canadian Aboriginal AIDS Network (CAAN). Trevor is a board member of the Global Network of People living with HIV (GNP+), the President of the board of 2-Spirited People of the 1st Nations in Toronto. He is also the Interim CEO of the International Indigenous HIV & AIDS Community (IIHAC).
Hello from Mississaugas of the Credit River traditional territory!

I've had some rough times through the years, and yet I consider myself to be very lucky and even privileged for so many reasons. The COVID-19 pandemic means that I am self-isolating just like you and everyone else. I'm getting just a little lonely, I admit.

My city dwelling friends have often asked me why I live in a small community. They ask, "Don't you get lonely?" Well, I'm single, and I guess it's true that in the snowy winter it can get a bit lonely, and I feel kind of isolated here. But, the rents are cheap around these parts and I rent a whole house. For what I pay for my place here, I would only be able to afford a tiny bachelor apartment in Toronto in a lower income neighbourhood. And so, here I am with a backyard and a front and back porch and a garden to occupy myself during these strange times.

I've been keeping myself busy doing some yard cleaning and also a lot of tidying up around the house. I am going through every recipe in my head trying to come up with exciting dinners-for-one while I talk nonsense to my cute little kitty cat, Kibbeh. I'm so lucky to have a job where I can stay home, and I can still work. With my job, I have always worked a lot from home anyways but now I don't travel anywhere to break up the monotony. Every month, it seemed, I would be jetting off to some interesting place working with Indigenous Peoples and HIV globally. Luckily years ago, I invested in a little home gym so that I can exercise and blow off some anxiety. I've been video chatting a lot with my son, my brother and some of my closest friends, but that's not quite the same as hanging out with them, is it?

Now-a-days, I don't really see anyone. That's one reason that I call COVID-19 the lonely disease. We are all practicing physical distancing, which is lonely enough, but if we're unlucky to be hospitalized for the novel COVID disease, it can be even lonelier from what I understand. Those in hospital can't really see their loved ones while they're quarantined and the hospital staff, as compassionate as they are, have little time to stop and reassure patients that "everything is going to be alright." The knowledge that people, and especially our older people, are dying alone all over the world does not sit well with me at all. I think I'm praying inside my head although I don't think I really ever "learned" to pray. I'm actually trying to talk to each of those thousands of human beings and tell them that "everything is going to be alright."

This whole experience somehow takes me back about 30 years when I was diagnosed with HIV at the ripe old age of 25. Back in the 80s and early 90s, there were no effective treatments for HIV. The fear, the stigma and the discrimination were so thick, you could cut it with a knife. So many of us were shunned by our families, our co-workers, employers, governments and even health institutions; the very systems that were meant to help us all equally. Ah, yes! But HIV was killing all the right people; gay men, trans women, African, black, Caribbean, Indigenous, sex workers, people who use drugs and the list goes on.

And there were demonstrations of desperation! We were desperate activists and the lovers, friends and families that stood by people living with HIV/AIDS were desperate too. We asked that our ashes be dumped on the steps of the Whitehouse because no one was doing anything. No one cared. And many people living with HIV died alone. Indigenous people living with HIV were among them.

People should not have to die alone. And so, I pray with them. I'm there with everyone of them. Don't be afraid. I am here for you.

So many years ago, I was lucky to get off my death bed and rejoin the workforce, and I found my reason for being on this earth. This crisis has reminded me of my trauma in those early terrifying days of HIV and AIDS. No one should have to die alone.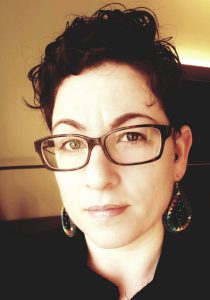 Jenny L. Davis is a citizen of the Chickasaw Nation and originally from Oklahoma. She is an Assistant Professor of Anthropology and American Indian Studies at the University of Illinois, Urbana-Champaign, where she is the director of the Native American and Indigenous Languages (NAIL) Lab and the Chancellor's Fellow of Indigenous Research & Ethics. She served as a co-director of both the Two-Spirit Society of Denver (2007–2010) and co-organizer of the 2009 International Two Spirit Gathering in Estes Park, Colorado.
Chokma (hello)! I'm writing from my home in the traditional lands of the Peoria Nation (central Illinois). The past several weeks has required a lot of sudden changes—in mid-March my partner and I both had to start shifting the university classes we're teaching to remote and online modes of interaction. All of my travel has been cancelled through the summer, including getting to teach at the Collaborative Language (CoLANG) summer institute hosted by the University of Montana & Chief Dull Knife College. But there has been some continuity as well. I have kept my annual mid-March tradition of starting seeds that will be planted outside once the threat of frost passes, and they have all started poking out of the dirt in various hues of green. And I am enjoying watching everything wake back up after winter, especially the small mosses, lichens, and plants. Our resident backyard woodchuck is gleefully eating lots of dandelion greens in the backyard.

My job as a professor has taken me more than 8 hours away from my family and community, and it's in times like these that I feel that distance the most deeply (ok, and when I'm missing green onion breakfasts!). I'm really sad not to be able to help out back home during this pandemic, and to be missing out on visiting home this summer. But I have a small community of friends, colleagues and students here too, and I've been impressed by how much people are working together to take care of each other.

In the national and international discussions about COVID-19, I have been struck by how quickly danger and fear lead people to discard parts of their family and community. There has been a lot of discussion in the media about 'sacrificing' our Elders and our immunocompromised or other family and friends who are more susceptible to COVID-19 and therefore to be more negatively impacted.  Or at least disregarding the safety and well-being of others because some of us are young(er) or healthier. This is unfathomable to me, and I would hope, to most of us.

Elders are a critically important part of our families and communities. Some of the people I hold most dear are immunocompromised, and I am willing to do whatever it takes to keep them safe. Many of the things we're being asked to do are not that different than what many of us have already been doing for a long time, they just differ in scale. We all already know not to visit Elders, or newborn babies, or our friends undergoing chemotherapy, if we have a cold or might be sick. I had the great fortune of living with my paternal grandmother as an adult, staying with her when I was visiting home in Oklahoma throughout grad school and until she passed in 2015. During that time, she was in her late 80s and 90s, and I became very aware of how my actions might impact her health and wellbeing. I started getting a flu shot every year even though I had never had the flu to minimize the chance I would expose her to it. These are the same principles I'm practicing now for everyone.

Original artwork by Jenny L Davis

Our communities are already familiar with the ways to take care of each other outside of systems that not only don't support us, but also, more often than not, work to harm us. One of the central pieces of Two-Spirit activism, for me, is an inherent belief that *everyone* in our communities is important, that value isn't based on perfect health or being young any more than it is on fitting non-Indigenous ideas of gender and sexuality. And I've always loved how our communities work to share resources and take care of each other regardless of whether we're related by blood. That's what led me to some of the recent art (feature here on the right) I've been working on, thinking about how our medicinal and ceremonial plants like Willow and Cedar look after everyone, not just themselves. When I think about staying home and social distancing as ways of caretaking and being generous to others, rather than as restrictions, it changes everything.