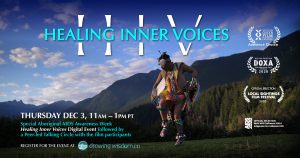 (Vancouver, BC) This year's Aboriginal AIDS Awareness Week takes place the first week in December and is an occasion to raise awareness and attention about HIV/AIDS and its impact on First Nations, Metis and Inuit people and communities. The week begins on World AIDS Day, which is observed on December 1st.
One of the highlights for this year is a screening of a newly released film, HIV: Healing Inner Voices followed by a virtual talking circle. This film features the lived experiences, realities and voices of eight (8) diverse Indigenous people living with HIV that combines storytelling and the healing power of cultural teachings. As an educational tool this peer-led documentary project has the potential to decrease experiences of HIV stigma and discrimination by connecting participants and partner organizations to community and to culture. Here is a link to the Trailer of this film
REGISTER HERE for the VIP screening and virtual talking circle of HIV: Healing Inner Voices will take place on December 3, 2020 11am-1pm PST (tickets are limited).
Martin Morberg, who is Northern Tutchone and Tlingit and the film's Project Creator, told the Two-Spirit Journal that, "We are calling our leaders and community members to stand with us in the fight against HIV stigma. Join us, as we explore ways to carry our peer-led vision into the heart of our communities."
This event is made possible with the support of Drawing Wisdom, the Inspirit Foundation and Reach 3.0.
For more information, please visit: https://drawingwisdom.ca.