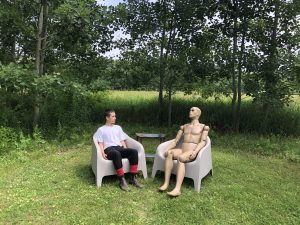 Two-Spirit artist devynn emory is presenting new works drawing from their experience holding space for bodies bridging multiple planes of transition.
"you are invited to a series of events. 1. a conversation, 2. a film, 3. a traveling collective public grief altar, and 4. an archive of our offerings–to the deceased, to the living, to ourselves, to each other."
Events begin March 31st, 7pm EST / 4pm PST with a conversation between devynn emory and artist Okwui Okpokwasili, followed by the world film premiere of deadbird the film. After the film you will be invited to the public grief altar can anybody help me hold this body in a city near you. Altars in Lenapehoking + New York: 3/31 – 4/3, Lenni-Lenape+Philadelphia: 4/16 – 4/18, Portland: 5/28 – 5/30, Togna+Los Angeles: TBA, and at home. The alters will be tended by devynn emory, Joseph M. Pierce, jumatatu m. poe, Maya Vivas, and others, honoring the land they reside on and creating space for you. 
If you are not in one of the touring cities, or prefer to practice differently, instructions are offered on how to create a grief space of your own. Please find the instructions on how to photograph and upload an image of your offering to the online archive.
For more information please click through the links above (information and quotes provided by the artist).
About the artist:
devynn emory is a mixed Lenape/Blackfoot transgender choreographer, dance artist, bodyworker, ceremonial guide, acute care and hospice nurse currently working as a COVID-19 nurse in NYC. emory's performance company devynnemory/beastproductions draws from their multiple in-between states of being, holding space for liminal bodies bridging multiple planes of transition. their formal dance training pulls on mathematical and mapped scores to support bodies decolonizing and bleeding human truths, opening peep holes and revelations for collective performers and audiences. they are currently working on a trilogy centering medical mannequins processing transitional mediumship. deadbird with it's touring public altar can anyone help me hold this body will be first. Cindy Sessions and boiling-rain are to follow which are interactive storytelling projects with an elder mannequin holding a collection of grandmother wisdom. As a healer they have dual licenses in "western" and "eastern" bodywork and run a private practice sage-massage that offers end of life consultation, channeled counseling and hands on care modalities in conversation with thresholds. you can find their work atdevynnemory.com and sage-massage.