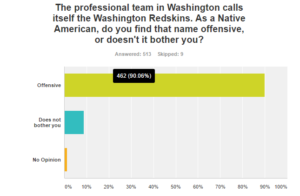 After conducting a telephone survey of 504 self-identified Native Americans*, a Washington Post survey earlier this month concluded that 9 in 10 (of 90%) Native Americans said they are not offended by the Washington R-word name. The poll claims that it "…shows how few ordinary Indians have been persuaded by a national movement to change the football team's moniker."
(*Editor's note: The Washington Post May 19th story uses the descriptor of "Indian".)
In response to Washington Post survey and story, Vincent Schilling, an enrolled member of the St. Regis Mohawk Tribe, wrote in a recent article for Indian Country Today Media Network that he questioned the accuracy of the poll and later tweeted with the hashtag #IAmNativeIWasNotAsked.
Schilling told the Two-Spirit Journal, "I don't believe the Washington Post poll is an accurate reflection of Indian country and the Native Two-Spirit community. Although I am not Two-Spirit and cannot comment on behalf of my Two-Spirit brothers and sisters, I can say that I feel that the Redskins name is disparaging due to the fact it promotes a one dimensional perspective of what a Native American person is."
"In my career of approximately 12 years as a journalist, book author, speaker, writer and now as Arts and Entertainment, Sports and Pow Wow's editor for Indian Country Today Media Network, I am constantly hearing the voices in Indian Country, so the finding of this survey didn't sound right to me," said Schilling.
Schilling launched a Twitter Poll that asked the question "Just Curious – If You are a  Native person: Are You Offended by the @Redskins?  The Twitter poll, which lasted seven days received 1,299 votes and 79% of voters said they were offended, while 21% said they were not."
After a myriad of inquiries on social media, Schilling then decided to create a separate survey which was identical to the Washington Post survey: located here: (https://t.co/bhV2aAKjNs). This survey is now open and accepting responses and mirrors the same 9 questions of Washington Post's survey, for Native people to weigh-in on this discussion.
In the Indian Country Today Media Network article Schilling wrote, "I know this is not 'scientific,' or acceptable standards for a national poll, but a simple Twitter poll I created Thursday evening at 11:59 pm eastern daylight-saving time  generated 200 responses in just a few hours. As of Friday afternoon, 83% of those people say they are offended by the Redskins name.
Schilling offers a call to action, "If you have an opinion, please share so others may vote!"
The final results will be published by Schilling in an upcoming Indian Country Today article – Follow him on Twitter for updates at www.twitter.com/vinceschilling.