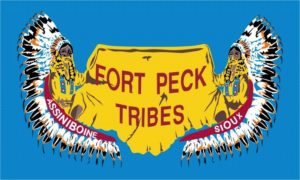 (Poplar, MT) At Monday's, May 25th, 2016 council meeting, the Tribal leaders of Montana's Fort Peck Indian Reservation adopted a transgender bathroom policy similar to the North Carolina policy, a highly controversial piece of legislation that prompted Bruce Springsteen, Bryan Adams, PayPal and many others to not do business with and in the State of North Carolina.
The newly adopted policy by the Fort Peck council requires people to use the bathroom according to the sex on their birth certificate and not the gender they identify as, passed with a majority vote – nine (9) council members voted in favor and one (1) council member did not support the resolution and two (2) members of the council were not present at the time of the vote.
Reported by local news outlet KRTV, what prompted this policy was the recent recommendation from the Obama administration ordering public schools to allow transgender students to use the bathroom of their choice. This recommendation puts federally funded education institutions in jeopardy of losing grant money if the do not comply. Councilman Ed Bauer was recorded in the meeting minutes as saying, "What people do in their bedrooms is their business. How public bathrooms are used is [my] business," KRTV reported.
"We have enough problems here with death and drugs, so maybe we're just a little protective," Bauer told the station. "I'm more concerned with being physically correct and protecting our children than being politically correct."
The TwoSpiritJounal reached out to a Two-Spirit member of the Fort Peck Reservation for their reaction. "This is a very complicated public safety issue," said the Two-Spirit tribal member. "I wouldn't feel safe sharing the bathroom with our trans* tribal members not because they are trans* but because these community members have been in and out the criminal justice system, and I recently heard stories of how one individual took advantage of some young guys who were passed out at a party."  
"Our trans* community members, who live on our reservation, are not good representatives of the trans* community and really give the rest of the trans* community a very bad reputation," the Fort Peck Two-Spirit tribal member continues, "I strongly believe, if these community members carried themselves in a good way, this wouldn't be an issue."
"It sounds like perhaps the wrong policy fix was used," said Se-ah-dom Edmo (Shoshone-Bannock, Nez Perce, & Yakama), commissioner for Portland's Human Rights Commission, "Rather than addressing, as the Two-Spirit tribal member stated, an issue regarding sexual abuse or assault, it appears that the tribe is instead targeting all people who are Two Spirit and/or Trans*."
Ms. Edmo continues, "We also know that hurt people hurt (harm) others around them, and that Two-Spirit, particularly those who identify as transgender also, collectively experience markedly intense levels of discrimination and harassment. The behavioral health response to such structural and interpersonal violence creates a cycle of dysfunctional behavior and violence.  My hope, and I think the collective hope of many across Indian Country, is for health and healing, and systems of Indigenous governance which provide for the safety, wellbeing and respect for all families, including Two-Spirit families.  We all have a family member or close friend who is Two Spirit – so this issue impacts all of our families and communities."
The TwoSpiritJounal will continue monitoring, tracking and reporting on this tribal policy impacting the Two-Spirit and Trans* community of the Fort Peck Reservation.