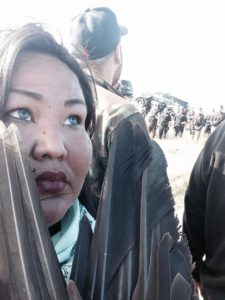 COLORLINES names a #Two-Spirit leader, Candi Brings Plenty, Oglala Lakota Sioux and a direct descendent of Crazy Horse's Band, as one of the "16 Women of Color Who Made History in 2016."
Ms. Brings Plenty was included on this list as "another inspiring leader at Standing Rock…, who helped create and sustain the Two Spirit Camp," as noted by COLORLINES.
"It is an honor to be recognized amongst other national leaders, who never backed down and stood strong in the face of the many obstacles it took to impact their nations," told Ms. Brings Plenty. "I am leading the Two-Spirit Nation at the Oćeti Śakowin, the prayerful resistant camp against the Dakota Access Pipeline, not only to protect our sacred waters, but to also reclaim our roles as Two Spirit Warriors.
When asked what Ms. Brings Plenty hopes to accomplish, Ms. Brings Plenty told the TwoSpiritJournal, "I hope to empower the leadership of our frontline warriors and lead by example for other Two-Spirit people to begin the process of healing their spirits and to decolonize their communities. My intention is to take our place as Two-Spirit Warriors in this historical gathering of nations and bring back the balance for our Oyaté so that the future generation of Two-Spirit will have a path to follow and continue to evolve as leaders."
Also included in the list of 16 Women of Color Who Made History in 2016 is the enrolled member of the Standing Rock Sioux and the former tribal historian, LaDonna Brave Bull Allard.
"LaDonna Brave Bull Allard…owns the land that Sacred Stone Camp rests on, one of the water protectors' largest encampments. Allard's family has been in North Dakota since the 1800s, and she's been a driving force in the Standing Rock campaign. 'I come from a long line of bigmouthed women,' she says. 'My grandma, my mom—they always stood up,'" as reported by Jezebel.
Below is COLORLINES' full list of all the 16 Women of Color Who Made History in 2016:
Dr. Mona Hanna-Attisha

Fatimah Asghar

LaDonna Brave Bull Allard

Candi Brings Plenti

Catherine Cortez Masto

Suzanne Barakat

Marisa Franco

Laurie Hernandez

Renee Bracey Sherman

Miss Major Griffin-Gracy

Minnesota Lynx WNBA Team

Desireé Marshall

Angel Nafis

Constance Wu

Pramila Jayapal

16. Ava DuVernay
Published by Race Forward, COLORLINES is a daily news site where race matters, featuring award-winning investigative reporting and news analysis.