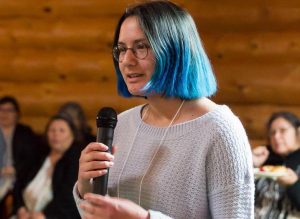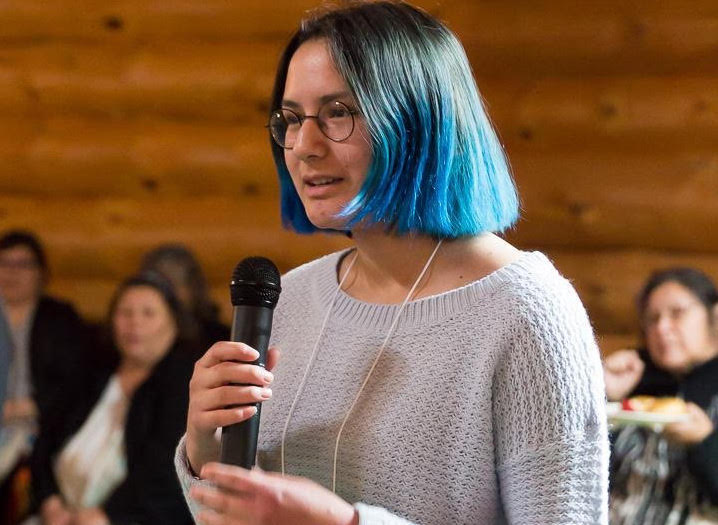 (Kenora, Ont.) Anishinaabe and #Two-Spirit poet, Sydney Flett, whose mother is from Wauzhushk Onigum First Nation, Ontario and father from Wuskwi Sipihk First Nation, Manitoba, recently launched a new collection of Two-Spirit poetry titled, Cusp of Brilliance.
This new collection of Two-Spirit poems is a personal reflection of the intersection and relationship between Sydney's Anishinaabe identity and being Two-Spirit. "This project started as a magazine, but my computer crashed and lost my some of my work. I salvaged what I could, and what was left was a book of poetry," Sydney told the Two-Spirit Journal (2SJ).
Sydney is an active and engaged community member who volunteers and helps organize Kenora PRIDE as well as their local LGBT2S+ youth peer support group called SPACE. Sydney organized an event for local Two-Spirit community members to hear some of teaching and creation from Knowledge Keeper Ron Indian-Mandamin.  Sydney also assisted in planning a week-long Two-Spirit youth camp in Wabaseemoong First Nation last year. Sydney is a member of the Obishkinigiig Youth Executive Council for Grand Council Treaty 3, the Wiisokodaadiig Youth Council for Kenora Chiefs Advisory, and served as a member of the Minister's Student Advisory Council for Ontario.
For the last two years, Sydney has been an administrative summer student for Seymour Law office, before that Sydney worked for Kenora Chiefs Advisory as a youth co-facilitator for their Biizindadedah Family Parenting, a partnered program with McGill University. Sydney also started a First Nations, Metis, and Inuit leadership team at Saint Thomas Aquinas high school in Kenora where Sydney just graduated from. Presently, Sydney is settling into Trent University, as a first year student in the Indigenous Bachelor of Education program.
Sydney shared the following two excerpts, "they sort of go together, showing the transition I went through emotionally and spiritually," said Sydney.
"The first excerpt was my reaction to the suicide crisis and all the news about missing and murdered women. It was a time when I was very self-destructive and losing myself and who I am," Sydney told the 2SJ,"The second excerpt was when I was coming more to terms with myself, it was near the completion of the school year, and near the completion of the collection. I've joked that the Poetry tears you apart and then puts you back together again – that is very much what happened to me throughout the process of this. I feel writing this has helped me to understand, forgive, and accept myself."
For a copy of the book, contact Sydney Flett at sydneyflett@hotmail.com, and tell Sydney that 2SJ sent you!
Excerpts from Cusp of Brilliance
I slipped into a daze of death and destruction.

The death surrounded me, suffocated me;

came from across the nation,

starting slow, then before you could make sense

of what was happening you were drowning.

The destruction was everywhere,

families torn and broken,

the constant news of death coming in waves.

You can only take so much of death

before you are numb to it.

And you can't help but know

that there is something very wrong about that.

Then, the destruction comes from within.

Then, you tear yourself apart

so others don't have the chance.

You internalize everything,

knowing damn well what it will do to you.

And the thing is,

you let it.

6 April 2017

I felt  drained, a great sadness

came over me, nay, took hold of me,

I could drift into tears

and lose myself forever.

I borrowed a car,

made a joke about

not coming back,

in bad taste I might add.

I drove to sacred land

passing an eagle

that seemed sentinel

as I entered

I found the beach,

and went to the shore

where the ice had broken up

just enough for a person to slip in

I offered my tobacco,

and found my way to the opening.

I couldn't feel the cold

what I could feel was my spirit being renewed

when it was time to get out,

the sun was setting,

and a streak of lilac painted the sky,

an eagle was soaring, just as I was

and all was quiet,

and all was calm

and I

was alive