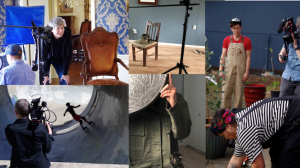 (Portland, Or) Northwest Portland Area Indian Health Board (NPAIHB) announces the release of "There's Heart Here", a short documentary that follows Two Spirit and LGBTQ individuals as they journey toward self-acceptance, supportive healthcare, and communities that celebrate them.
"The film was initially conceived as a way of addressing and decreasing stigma surrounding Two-Spirit and LGBTQ identities in healthcare settings and in communities," Morgan Thomas, the Two Spirit LGBTQ Outreach Coordinator for NPAIHB, "We know stigma often results from a lack of understanding or a partial understanding of identities. Sharing people's stories and highlighting their lived experiences, in all their fullness and complexity, can be an effective way to reduce stigma."
Established in 1972, the Northwest Portland Area Indian Health Board (NPAIHB or the 'Board') is a non-profit tribal advisory organization serving the forty-three federally recognized tribes of Oregon, Washington, and Idaho.  Each member tribe appoints a Delegate via tribal resolution and meets quarterly to direct and oversee all activities of NPAIHB. Delegates create and update a strategic plan, with the four main areas: health promotion and disease prevention, legislative and policy analysis, training and technical assistance, and surveillance and research.
Thomas tolded the 2SJ, "with this film, we hope to motivate healthcare providers and community members to seek out educational materials, which will help them be even better allies to their Two Spirit and LGTBQ community members. (Like the resources at www.npaihb.org/2SLGBTQ/print) We're working toward a world in which all our Two Spirit and LGBTQ community members feel seen, safe, and celebrated."
When asked what the reaction has been, Thomas said, "from what I've heard, the reaction has been positive. Individuals from the communities represented have said they didn't know about the work being done by Two Spirit and LGBTQ people in their communities and are excited to support it. Several people have said they see themselves reflected in the stories.
From the HPAIHB website, this film was made "…possible, including the Indian Health Service, the Minority HIV/AIDS Fund, Boxcar Assembly, the three amazing people who shared their stories with us, the supportive community members and tribal leaders in the Pacific Northwest and across the United States, and all of the advocates who have come before us."
For more information about LGBTQ and Two Spirit health, visit the Two Spirit and LGBTQ webpage or text LGBTQ2S to 97779.