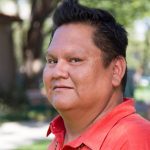 (Philadelphia, PA) The #Two-Spirit Journal met up with Mr. Elton Naswood, is Navajo, Dine of the Near to the Water People Clan, born for the Edge Water People Clan, his maternal grandfather's clan is of the Mexican People, his paternal grandfather's clan is of the Tangle People, at the 2019 of American Public Health Association Annual (APHA) Meeting & Expo that was held at the Philadelphia Convention Center.
Elton took some time to discuss how he works to hold space and lift up Two-Spirit people, communities, work and conversations at this large national conference and also discussed how Two-Spirit people, who are working for health and wellness in their communities, can to get more involved at 2020 APHA Meeting and Expo that will be held in San Francisco, Oct. 24-28, 2020.
Elton is currently serving as a Co-chair of the Program Planning Committee for APHA's American Indian, Native American Caucus. Elton is an Independent Consultant and worked as a Senior Program Analyst in the Capacity Building Division at the Office of Minority Health Resource Center with the Office of Minority Health, U.S. Health and Human Services. Before that, he was a Capacity Building Assistance Specialist at the National Native American AIDS Prevention Center and was formally the Founder and Program Coordinator for the Red Circle Project, AIDS Project Los Angeles.
Below are some important dates for the next conference and link to get more information and/or to submit an abstract:
Call for Abstracts Open on December 20, 2019
Abstract Submission Deadline on February 20, 2020
www.apha.org