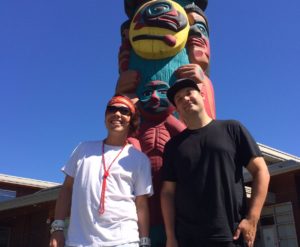 (Tsleil-Waututh, BC) On September, 18, 2016, the First Nation communities, Tsleil-Waututh, Squamish and Musqueam Nations, jointly hosted a #Two-Spirit Gathering on the traditional and unceded territory of the Tsleil-Waututh Nation located in what is now called North Vancouver, BC.
The day long conference was first of its kind that was convened by three Nations and on a their jointly shared territory in British Columbia. The TwoSpiritJournal.com is working to find out if this is also a first in Canada and/or not Turtle Island.
This gathering was facilitated and could not have happened without the generous support of Transcare BC.
"Today, we are to here untie and make things right," said Gabriel George (Tsleil-Waututh), a direct descendant of Chief Dan George, "I'm here as a learner. To learn of our Two-Spirit people's challenges they face; I'm here in grateful and humble way."
Mr. George then set the intention for the historic gathering, "to create a safe place for our Two-Spirit relatives, where we are all family again, and this work is grounded in our traditional ways that promote healing." George then offered a quote from the respected, Phil Lane, "If you love and accept yourself; you will know love and acceptance."
Stuart Gonsalves (Squamish) then offered their personal story of their to journey to self love and acceptance. This was followed by Sandy Leo LaFramboise (Metis) who also shared their personal journey as well as their work with the Aboriginal Trans* community.
After an amazing song about water, the lifeblood of our great mother, by talented Carrielynn Victor (Sto:lo) the attendees heard a Two-Spirit talk titled, "Two-Spirit People:  Then and Now – Sex, Gender & Sexuality in Historical & Contemporary Native America, offered by Harlan Pruden (First Nation Cree), and author of this post.
This was followed by an engaging community panel of young people from each nation talking about their community experience of coming in and being Trans* or Two-Spirit.  Here is a list of community members: Michael Paul (Musqueam), Abigail Speck (Musqueam), Bronson Charles (Musqueam), Tyler Jacobs (Squamish), and Danielle Thomas (Tsleil-Waututh).
"Yesterday was so important to me because it's important to reclaim the meaning Two-Spirit and decolonize ourselves with the history and stories that we share and learn from each other, said Tyler Jacobs, "Take what we need from the stories to help one another with what we go through."
Finally, Dr. Evan Adams (Tla'amin), Chief Medical Officer from the First Nations Health Authority, provided presentation titled: Coming In: Community Safety – What communities can do to support LGBTQ2S.
Below is list of all the partnering organizations that tabled at this event: