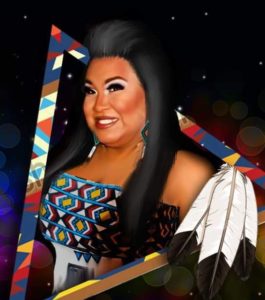 (Morley, AB) Tomorrow night, Saturday, August 27, 2016, Argintina Hailey (Stoney Nakoda Nation) will take center stage at the Stoney Nakoda Resort and Casino for Morley Pride, the first #Two-Spirit pride event held on an Alberta First Nations reserve.
The inspiration for this event, according to Argintina Hailey, the lead organizer, was seeing all the Two-Spirit work being done in the neighboring province of Saskatchewan and Hailey was also approached and asked to do a Two-Spirit event by the leadership of the Nakoda Elders Wisdom Society.
Door open at 8pm with an opening prayer by Tina Fox, an elder, followed by opening remarks by community members and leaders. The audience will be treated with special performances by Girls Got Rhythm and Nina Tron and performances by Two-Spirit comedian Dane Cunningham and drag performances Argintina Hailey, Visa De'Klein, Miss Ellen Q and The Puma. The evening festivities end with a dance party.
"This event is to show that we are all one community, and as one community we must all come together as a Two-Spirit community and at the same time we need to work with our respective Nations and home communities," Hailey continues, "To move forward, we have to work together; if we can't accept and work with one another, then how can we ask others to accept and work with us if can't do that ourselves?"
When asked what Hailey hope to accomplish with this event, the reply was, "There will be many allies attending this event and for many this will be the first time at a Two-Spirit event, for them we want to show that we are just like everyone else. For the Two-Spirit community, we want provide leadership and show that our Two-Spirit community can and should organize and work in our Native communities."
"Times are changing!" exclaimed Hailey.
Hailey then invited any Two-Spirit people who are in the Calgary or Morley area to come out to not only the Two-Spirit Morley Pride event, but also come out to this weekend's pow-wow!