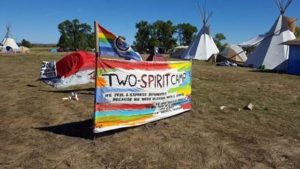 (CANNON BALL, N.D.) (Editorial note and statement of disclosure, the author of this article made a donation of $100 to this campaign.) On Saturday, September 24, Portland's Candi Brings Plenty (Oglala Lakota Sioux and a direct descendent of Crazy Horse's Band,) launched a Two-Spirit Call-to-Action Campaign on crowdfunding site FUNDLY.
Ms. Brings Plenty told the #Two-Spirit Journal that she, 'launched this funding campaign to assist my leadership in the efforts of initiating a Call-to-Action for our Two-Spirit Nations. The intent is to support the Two-Spirit Camp at Standing Rock and invigorate the Two-Spirit Movement and to reclaim our place in sacred spaces."
The Equi Institute (Ms. Brings Plenty is the Executive Director of this organization) is supporting a group of people to go to the Two-Spirit campsite and is scheduled to arrive on late on October 12, 2016. Ms. Brings Plenty, "invites all Two-Spirit peoples to meet us at this time at the Two-Spirit Campsite in Standing Rock."
Ms. Brings Plenty stresses the importance for the Two-Spirit community to be at Standing Rock at this time, "I have family members who have camped out since day one, my uncles are security and my niece was one of the first to be arrested early before the camp was a historical protest. My uncles are running security because my great-great grandfather was the Whip Man for Crazy Horses band."
"I am going, because my uncles told me I needed to bring the Two-Spirit Nations and let our societies know that we have a sacred place waiting for us." Ms. Brings Plenty continues, "My grandpa Leonard camped out for the first month, until his elderly body couldn't take on the cold. He told me not to doubt myself, that I carry the blood of warriors and because I'm Two-Spirit I have the right to be both a masculine and a feminine warrior."
Ms. Candi Brings Plenty is the Executive Director of the Equi Institute, the Director of the Portland Two-Spirit Society, a Delegate for the International Two Spirit Council and the World March for Women.
For more information and to make a donation click on the following URL: https://fundly.com/water-is-life-we-support-the-two-spirit-warroirs#
According to John Sopinski, a Graphic Editor for the Globe and Mail, "Here's how the [Dakota Access Pipeline] route compares with another proposed pipeline through the Bakken formation, Keystone XL. (U.S. President Barack Obama rejected the Alberta-to-Nebraska Keystone pipeline last year, but Republican presidential candidate Donald Trump has said he would revive the project if elected.)