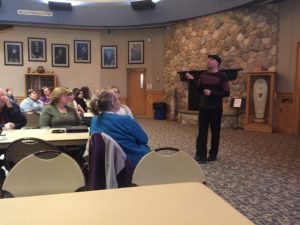 (Bemidji, MN) On Monday January, 30, 2017, over 50 people were in attendance to hear Arnold Dahl-Wooley, a member of the Leech Lake Band of Ojibwe, discuss the history of Two Spirit people at the Bemidji State University's American Indian Resource Center in the Endazhi-Mawanji'iding (Gathering Room). While many others turned in via the livestreaming of the lecture.
"The American Indian Resource Center at Bemidji State University strives to promote inclusion and diversity, so people can be themselves," said Bill Blackwell Jr., Executive Director of American Indian Resource Center at Bemidji State University. "This #Two-Spirit presentation, by Arnold Dahl, certainly assisted us in achieving that goal. The historical context of the Two Spirit population and their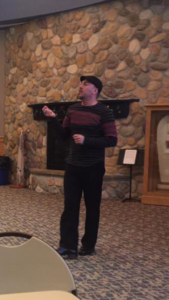 significance as spiritual beings was new to a lot of people. As someone who has several members in my family who identify as Two-Spirit, I took extra pride in having this discussion on our campus."
Mr. Blackwell continued, "Some of the high points from Monday's talk were Arnold sharing his personal story as an Ojibwe who came out and how his family perceived it. Arnold did a great job of taking us through the Two-Spirit history: pre-contact, post-contact, and today's context and also did an amazing job with giving suggestions for what could be done by allies who are friends, teachers, and administrators."
Arnold and his partner Matthew hold the honor of the first same-sex/Two-Spirit couple to be recognized by the Leech Lake Band of Ojibwe and were married on the reservation in 2013. Arnold is an advocate and works for and with the LGBTQ and Two-Spirit community as well as serves as Board Chair for Leech Lake Tribal College.
Bemidji State University, located in northern Minnesota's scenic lake district, occupies a wooded campus along the shore of Lake Bemidji. A member of the colleges and universities of Minnesota State, Bemidji State offers more than 80 undergraduate majors and 11 graduate degrees encompassing arts, sciences and select professional programs. Bemidji State has an enrollment of more than 5,100 students and a faculty and staff of more than 550. BSU's signature themes include environmental stewardship, civic engagement and global and multicultural understanding.