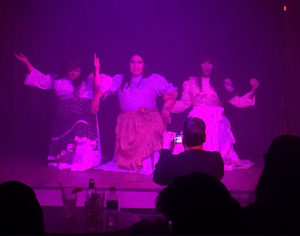 (Vancouver, BC) The kick-off of this year's Talking Stick Festival began with a bang! Last night, February 17, 2017, festival goers were treated to a performance from San Francisco's Brush Arbor Gurlz, or BAGz, and the local and talented #Two-Spirit diva, Quanah Style, at Vancouver's Odyssey Bar & Nightclub.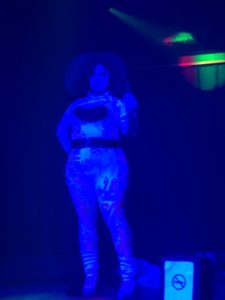 "I was really excited to be included in the festival, most importantly for me to be able to share some of my Southeastern culture with my Aboriginal cousins of the north," said Miko Thomas (aka Landa Lakes). "One of the highlights of the evening was when an audience member pulled me aside and said he had never attended a drag show with indigenous artists that included culture sharing and politics and that it made him feel very proud as Two-Spirit."
BAGz is Turtle Islands' only Native American drag queen ensemble and is comprised of several Nations such as the Chickasaw, Cherokee, Choctaw, Navajo, Ojibwa, and Tohono O'odam Nations and even sports one non-Native. The group's name is based on the building of brush arbors by Southeastern Nations for social and religious occasions. Founded in 2004 by Landa Lakes (Chickasaw), BAGz contribute to the Two-Spirit scene from politics to comedy. The performers at last night's event were Samantha Richards (Diné), Uphoria (Squamish), Miso Hornay and Arbor matriarch Landa Lakes (Chickasaw).
There are three other Two-Spirit events at this year's Talking Stick Festival:

Two-Spirit Intersection(s) and Connection(s)
Exploring the space between and within Two-Spirit: performance, politics and community organizing.  
Tuesday February 21
1PM – 4PM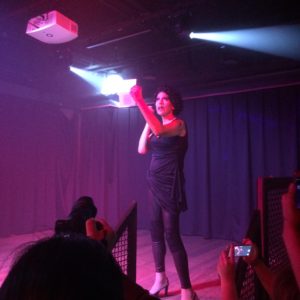 Roundhouse Arts and Recreation Centre – Exhibition Hall
181 Roundhouse Mews, Vancouver, BC V6Z 2W3
Join us for an afternoon of Two-Spirit conversations exploring the history of the Two-Spirit tradition(s) followed by a panel discussion of distinguished Two-Spirit performers exploring the intersection of Two-Spirit identify, performance, politics and community organizing.
Facebook Event Listing: www.facebook.com/events/588393424692471/?notif_t=plan_user_joined&notif_id=1487410037799643
***************************************
War Paint: Drag Queens Prepare For Battle
The Brush Arbor Gurlz (BAGz) invite you to join them for a drag workshop. 
February 21, 2017
7:00 PM
Roundhouse Performance Centre
181 Roundhouse Mews, Vancouver, BC V6Z 2W3
The BAGz see drag as a way to transcend gender and express themselves politically through their performance art.  They will demonstrate their transformation process with makeup, lashes and wigs while discussing Native issues, Two-Spirit identity, performance pieces, inspirations and empowerment by their alter egos.
Facebook Event Listing: https://www.facebook.com/events/1851747475100975/?notif_t=plan_user_joined&notif_id=1487410491452446
***************************************
AMP it UP – Aboriginal and Two-Spirit Media Training
Join us for AMP it UP, a practical, hands-on, media training/workshop to develop, strengthen and supportwork with media outlets.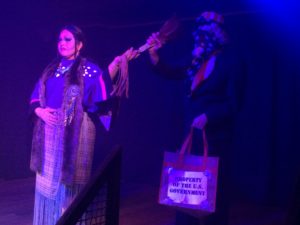 Saturday  February 25
10am – 1PM
Holiday Inn & Suite Downtown Vancouver
1110 Howe St, Vancouver, BC V6Z 1R2
Wouldn't it be great if we had a personal publicist or a PR firm to manage and support our communication and media needs? Media outlets—newspapers, magazines, radio stations, television and Internet-based media/sites are important ways to inform a broad range of people about information, messages, issues, activities and events. Media is also an important tool in moving and shaping public opinion, discussions and conversations when done correctly.
Facebook Event Listing: https://www.facebook.com/events/234513013676874/?notif_t=plan_user_associated&notif_id=1487410728683630
***************************************
Full Circle: First Nations Performance, the host organization of the 16th Annual Talking Stick Festival from February 16-26, 2017 is western Canada's premier Indigenous Performing Arts Festival featureing 11 days of entertainment including film, theatre, dance, celebration of powwow culture and Aboriginal artisan fair, métis fair, talking circles, music concert series, industry series and this year a drag queen show and so much more!
The Talking Stick Festival is an open invitation to explore Aboriginal culture through the Arts and is proud to showcase extraordinary Indigenous performance and art featuring some of the best emerging and established Indigenous artists and provides a stage for artists from a variety of artistic expressions. It celebrates the traditional performance of many communities, as well as the contemporary and interdisciplinary work of Indigenous creators.