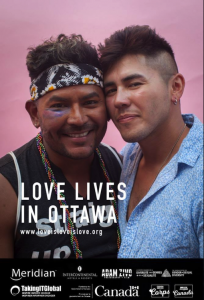 (Ottawa, Ont) Andrew Martin, who is Mohawk from Six Nations of the Grand River Territory and is also an acclaimed actor known for Fire Song (2015) and The Fields of Dying Rabbits (2018), participated in this year's #Loveisloveislove campaign at Ottawa Pride 2018.
Martin told the #Two-Spirit Journal, "I feel that it is important to be visible. To show that love can take any form. Both of us feel that in our communities (Luis, being Hispanic from Nicaragua in Central America and myself, being North American First Nations) positive and proud figures are needed. In this digital day and age, ignorance is no longer an excuse, it's a choice."
LoveisLoveisLove is an arts campaign that supports progressive rights by producing and publishing empathetic LGBTQ2+ content and is a campaign that was launched in 2016 in response to the Orlando Pulse shooting. Shortly after the shooting, many LGBTQ2+ people posted photos of themselves on social media, usually with someone dear to them, accompanied with messages on the importance of being unafraid, especially in the face of tragedy. This was the inspiration for the campaign. If these kinds photos could be cathartic to the community, then we wanted to amplify that. While initially defined by Orlando, the project evolved to support the LGBTQ2+ community more generally.
When asked why it is important to represent the Two-Spirit community, Martin responded, "We were celebrated. Before colonization, in many of the nations across Turtle Island, Two-Spirit people were important and respected within many societies. Since then, that has been almost lost. Awareness and re-education are key in my opinion. There tends to be quite a bit of homophobia and transphobia within Indigenous communities and as we all know, that's a toxic environment to be enveloped in. Before I came out, I didn't know of very many out Indigenous people. Through my work in the film, Fire Song, I was introduced to the Two-Spirit community. It was then that I realized that I owe it to myself to not be afraid and to be honest, and if that helped someone else along the way, even better. In the end it was that film that brought Luis and I together."
Thanks to the support of so many people, Andrea and Luis photo ranked in the top three most "Liked," "Commented" and "Shared" photos and were one of the "winners" of this year's LoveisLoveisLove campaign. Andrew and Luis will receive a $600+ luxury hotel stay at the Intercontinental Hotel Downtown Toronto, along with two other couples.
Popularity was measured by number of "reacts" on a photo (even sad and angry reacts count) and were tabulated until 11:59PM (EST) on September 9th.