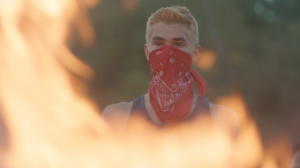 (Toronto, ONT) Telefilm Canada along with the 2018 Toronto International Film Festival invited Bretten Hannam, Mi'kma'ki and #Two-Spirit writer and director, and actor-producer Gharrett Patrick Paon to complete at year's PITCH THIS! The invitation was extended as a result of their film, Wildfire.
After presenting some footage from Wildfire, the 6-membered jury of PITCH THIS! awarded Hannam and Patrick $15,000 to off-set costs in development of WILDHOOD.
Wildfire, a Two-Spirit Indigenous identity drama, was one of five scripts in Canada selected for Whistler Film Festival's 2017 Aboriginal Filmmaker Fellowship and was pre-licensed by CBC's Canadian Reflections.
"Wildfire and WILDHOOD are stories that have been evolving since I was a kid. When I finally shared them, I was overwhelmed by the positive response. Having people who support the story means everything—from working on the script, to recently shooting the short version, to being accepted into PITCH THIS! It makes me excited to share our project with as many people as possible," said Hannam.
With this PITCH THIS! award along with Canadian Film Centre's Producer's Lab (2017), Canada Council for the Arts, Arts Nova Scotia, and Nova Scotia's Community Culture & Heritage – Screenwriting Development Fund with Damon D'Oliveira as its Executive Producer, WILDHOOD will go into production and begin filming in the summer of 2019.
According to TIFF's PITCH THIS!, WILDHOOD's synopsis is, "In this inspiring two–spirit coming–of–age drama, a rebellious Mi'kmaw teenager runs away from home to find his birth mother and reclaim his heritage."