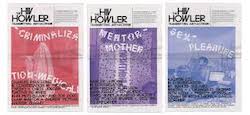 The Publishers + Editors of HIV Howler, Anthea Black and Jessica Whitbread, are looking for HIV+ #Two-Spirit artists, writers and activists to submit submissions for the 4th issue of The HIV Howler: Transmitting Art and Activism, a newspaper focusing on global grassroots HIV art and cultural production, to be released in July 2019.
The HIV Howler: Transmitting Art and Activism is a limited edition art newspaper focusing on global grassroots HIV art and cultural production. Artists have and continue to play a fundamental role in shaping broader societal understandings of HIV and working within communities that are most impacted by the virus: queer and trans people, people who use drugs, sex workers, people of colour, and indigenous peoples. Together we reflect the immediacy and urgency of global HIV/AIDS dialogues as well as their historical continuities.
The HIV Howler is a forum for dialogue, a demand for aesthetic self-determination, a response to tokenism, and a guide to navigating the vibrational ambiguities between policy, pathology, and community.
DEADLINE: May 1, 2019 submitted by email to jessicawhitbread@gmail.com and anthea.black@gmail.com with the subject line "HIV Howler and your first/last name" Although the deadline has past, the Editor are still welcoming submission from Two-Spirit people!

Submissions may include: artworks, writing in any genre, texts, articles, letters, archival documents, performance documents, film stills, or any artistic media suitable for print in the newspaper format.

We welcome submissions in English, French, Spanish, Portuguese, Dutch, Russian, Mandarin, and Arabic, and other languages provided translation available, excerpts from featured submissions will be translated if possible.

Please make sure your entire submission is NO MORE than 10 MB in total, including all documents and images. See below for detailed submission guidelines.

The HIV Howler is interested in publishing work that explores the following themes that will appear in Issue 4 on Movement-Migration and/or future issues:

Movement, motion, dance, performance, embodiment, somatics, healing, post-traumatic healing, ancestry, the body

Migration, immigration, refugee experiences, borders

Reclaiming "transmission" and "going viral:" information, publishing, artist multiples, distribution, and circulation as vital forces in art and culture

Drugs and drug use, harm reduction, artists approaches to the opioid crisis

(Homo)nationalism, capitalism, and resisting the State

Translation, language, storytelling, truth/lies, voice

Any other works that disrupt a one-dimensional image of living with HIV

Submissions from HIV+ artists who are Black, Indigenous, and/or People of Colour, as well as HIV+ artists who identify as transgender, are welcome and will be prioritized.

Submissions will be reviewed and selected by a global advisory team of artists, activists, and writers that is primarily made up of artists living with HIV. See below for more information.

Successful submissions for featured content in The HIV Howler will receive an artist/writer fee with support for translation of selected sections.

Each issue includes a featured conversation between 2 artists living with HIV, plus commissioned artworks, artists projects and texts, archival material, and guest columns.

Our goals with The HIV Howler include creating global conversations between artists/activists, drawing attention to specific and local contexts, and using artist-led print publishing as a mode for the transmission of ideas and political interventions.

The HIV Howler will be produced as part of our editorial laboratory at the exhibition LOOSELY ASSEMBLED in partnership with Montreal print and publishing organizations. Our production processes make the artistic and intellectual labour of community building visible and performative within the exhibition.

Unfortunately The HIV Howler cannot provide direct financial support to individual artists or writers to attend the exhibition or related launches.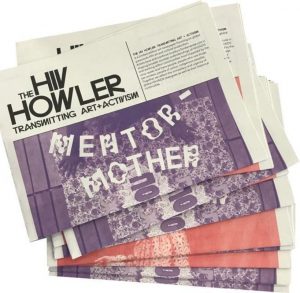 Review Process and Due Dates
The Advisory will start reviewing submissions on May 1, 2019 and notify accepted contributors within 2 weeks. Feel free to email us with any questions in advance of the due date. Final print-ready work will be due June 1, 2019.
Applications will be evaluated based on the following criteria:
The artistic strength and creative vision of the proposed project.

How the piece contributes to a global conversation on art and AIDS activism.

How the work addresses, or expands and critiques, the key themes for Issue 4 of Movement-Migration and/or Issue 5.

Please note that The HIV Howler's editorial mandate is to publish work by HIV+ cultural producers only. HIV negative people can help by signal boosting the call for submissions and supporting poz people to submit their artworks and writing.
Application Checklist
Include all the following materials grouped together in a single email with a maximum of 10 pages in total, and/or 10 images, with no more than 10 MB file size.
1. IN YOUR EMAIL to jessicawhitbread@gmail.com and anthea.black@gmail.com
Submit some general information about yourself and your application including the following:
A) Your Name
B) Mailing Address (This will be kept confidential)
C) A 150-word biography. Please include a short description of your key projects as an artist, activist or HIV+ culture-maker. Biographies will be included on the Contributors page of the paper.
D) Your Project Title
E) Project Summary (200 words maximum)
Tell us about your work in a short paragraph.

What are the key themes and ideas that guide the piece?

What form does your work take? (e.g. Submissions may include any artistic media suitable for print in the newspaper format: artworks, texts, articles, letters, archival documents, performance documents, film stills etc.)

Is the work completed? If yes, please prepare to submit as a print-ready file or document by May 15, 2019. If the proposed work is not complete, plan to have final work ready to submit by May 15, 2019.
2. ARTWORKS / VISUAL or TEXT-BASED SUBMISSION (10 MB maximum for all attachments)
Include the support materials that best reflect your work.
Visual art: Up to 10 digital images formatted as jpgs to fit within the 10 MB size guideline. If accepted, we will contact you for high-quality images in tiff format for publication.

Film/Video: Up to three works or 10 minutes of viewing time. Please send links to Vimeo, Youtube and/or still images. Film/video submissions will be published as 3 – 5 still images with a description or statement.

Writing: Writers, critics, theorists, historians and/or activists who work with writing may submit up to 10 pages of completed texts, articles, or letters as a Word document. Please note we can only publish excerpts of longer submissions. All written material will be edited for length, clarity, and/or consistency with other texts in the newspaper.

Print materials (e.g. archival materials, brochures, pamphlets, photographs, publications, books, etc.): Scan and submit the full document and/or an excerpt as a pdf file, and let us know if you have secured permission to reproduce.
3. LIST OF ARTWORKS / IMAGES (Word document as attachment)
Include a list that gives information about each artwork / item of your visual support materials. Indicate artist/activist name, title of the work, year of creation, media, and brief description of each image (maximum 50 words per image). This important information will be published as captions alongside artworks in the paper.