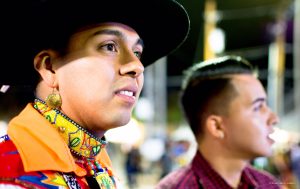 (San Francisco, CA) The SFO Museum, conveniently located at San Francisco International Airport (SFO), is screening two new #Two-Spirit films throughout November.
November is Native American Heritage Month and Transgender Awareness Month, so the museum is showing "Mino Bimaadiziwin" by filmmaker Shane McSauby, a citizen of the Gichi Wiikwedong Odawa Anishinaabek. This film is about a trans youth who has lost connection to his Native culture and is profoundly affected by a chance encounter with a mysterious woman. The 10-minute film is showing through December 4. To watch an excerpt, visit: https://www.sfomuseum.org/programs/video-arts
The other film is a documentary by American Indian filmmaker Ben-Alex Dupris. In "Sweetheart Dancers"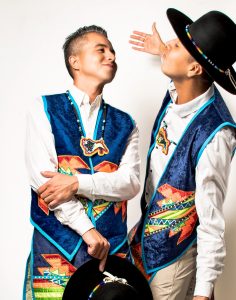 (2019), Dupris delivers an inspiring profile of Sean and Adrian, a Ute and Navajo Two-Spirit couple who are challenging perceptions of identity through their participation in Sweetheart Dance competitions at powwows across the United States. Although this 13-minute film debuts Thursday, November 21, but you can preview this Two-Spirit film by visiting: https://www.youtube.com/watch?v=w21X4NmRgGY&feature=youtu.be
"When I first decided that I would make this film, I did so with the deeply learned knowledge that our people deserve to be treated with respect, no matter who they are," said Dupris. "I have buried too many sad, young Indian people. I have watched how our people pick each other apart, and quite honestly, I have been on the end of the picking in many instances.
Dupris continues, "We learn to grow, and build a love beyond what we were given in this world. Sweetheart Dancers is my own love letter to the simple act of love. I cannot express how proud I am of our team, and Sean & Adrian for being themselves through this project. It has changed my world, and I hope it changes everyone else's too."
These films can be viewed for free in the SFO Museum's Video Arts room between 5 a.m. and midnight. It is located in the pre-security area of the departures level in the International Terminal.
SFO Museum was established by the Airport Commission in 1980 for the purposes of humanizing the Airport environment, providing visibility for the unique cultural life of San Francisco, and presenting educational services for the traveling public.  The Museum was granted initial accreditation from the American Association of Museums in 1999, reaccredited in 2005, and has the distinction of being the only accredited museum in an airport.  Today, SFO Museum features approximately twenty galleries throughout the airport terminals displaying a rotating schedule of art, history, science, and cultural exhibitions, as well as the San Francisco Airport Commission Aviation Library and Louis A. Turpen Aviation Museum, a permanent collection dedicated to the history of commercial aviation.  To browse current and past exhibitions, research our collection, or for more information, please visit: www.flysfo.com/museum.