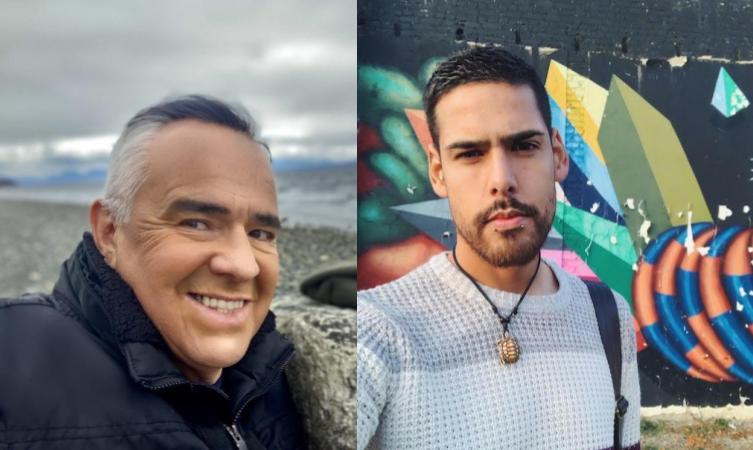 The #Two-Spirit Journal is excited to launch a new series featuring faces, voices and stories of Two-Spirit people across this land as they are not only coping but thriving during these uncertain times of Covid-19. Individuals were asked to share their personal observations and reflections of the current Covid-19 pandemic; if they are self-isolating, what are they doing to keep themselves busy and what do they miss the most.
In this first installment, George Littlechild and Jordy Ironstar, two amazing, passionate and inspirational Two-Spirit leaders, share how they are reacting and responding to Covid-19.
The Two-Spirit Journal encourages and welcomes submissions from any reader who wants to partake in this series, send your responses or questions to [email protected].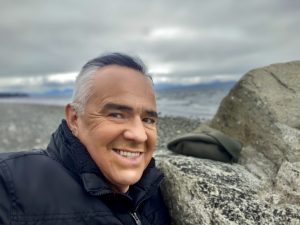 George Littlechild, Plains Cree, was born in Alberta, Canada, is a survivor of the sixties scoop and renowned mixed-media Two-Spirit artist that records his personal and family history, as well as, his personal reclamation and reconnection with his ancestral culture. In 1984 he received a diploma in art and design from Red Deer College and rose to commercial success after obtaining a B.F.A from the Nova Scotia College of Art and Design in 1988.
My art career has been impacted by the Covid-19 pandemic. This weekend, I was to go to the opening of a First Nations art gallery in Edmonton where I had work for a group showcase of First Nations artists. That has been canceled. Then I was to be in a film by First Nations filmmakers, Jeff Bear and Maryann Jones, that's canceled because both over 60 and don't want to travel because of the Covid – 19 virus. Then again, we can't really travel anyway. So that's two things. And the art galleries that represent my work are also closed, so that's another thing.

Self-isolating as best as I can; I do have to go out to get supplies and food. I like that stores have different ways of protecting us, by having line ups and spacing between people, and some stores don't have these things, I've noticed. I've been getting out and am powerwalking in public, but if I see someone coming down the street – I cross the street out of respect for that person and for myself. Everyone has been great by keeping their distances, go around cars when we approach one another, while others giggle, laugh and smile and others look extremely crabby, but I get it. There's lots of older people out but there's not many people out, which is a good thing. Why do I get out and walk everyday? It's so great for my mind, body, spirit and emotions. I always laugh when I hear ads say mind, body and spirit, where in our First Nations way we have mind, body, spirit and emotions in the medicine wheel, a powerful teaching tool. If you don't what that is – google it, do some research and learn about the medicine wheel on how it can help you.

As a Two-Spirit person, just like anyone who is Two-Spirit, now is not the time to meet your love. Do not go out in public to gay clubs, which I think are closed, or gay bathhouses and cruising areas as well along those lines, this is an unsafe time. We need to be careful and take care ourselves, take care of others as best we can through skype, facetime, telephone and texts. Texts are the most impersonal in my opinion and I regret the fact that our youth depend on that. I don't know how they get any emotions or feelings from texts, I just find them null and void of that. There just a way to get immediate ways to get a message to you quickly. But, I think we have to be out there talking to each other as best as we can. Being there for each other, comforting each other. Help those who really need help. We've all heard the prophesies that these things are coming – let's do the best we can and be the best we can. Have hope and meditate – we have a 30-day meditation challenge in our house. Thanks for listening to me and know that we'll get through this just as we have for the past 529 years!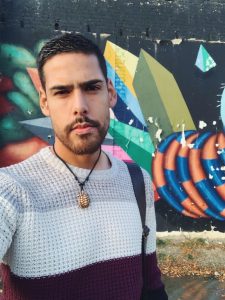 Jordy Ironstar is a Two Spirit Nakoda Oyaté from Carry the Kettle First Nation located in what is now referred to a Saskatchewan. Jordy has spent the past year working as a community engagement coordinator for Saskatoon Pride, and a Two-Spirit advisor for OutSaskatoon in Treaty 6 territory.
In these times of uncertainty, it's been a challenge to change how we operate in our day-to-day activities. I crave for and thrive in routine, so making the shift from working in an office to working remotely from home has been a major adjustment. Also, going from planning events to creating contingency plans has thrown me for a loop. I am grateful that I can still work, even if it means things have shifted.

As a committee member for various Two-Spirit initiatives, I have had to deliver the news that we postponed or canceled events. These events were supporting and promoting Indigenous: writers, activists, artists, businesses, etc. My heart sincerely goes out to those who go into communities and try to make them better or more beautiful. I applaud the Indigenous and Queer artists who are finding alternative ways to share their art with the world, such as the live readings that Joshua Whitehead and Danny Ramadan are doing on streaming services. It's definitely a great way to keep connected and our minds distracted.

Over the years, I've taught myself to look at the silver lining in situations. As a community engagement coordinator for Saskatoon Pride, I have had the pleasure of seeing our organization's reaction to the Covid-19 threat. It has forced our team to think proactively and brainstorm innovative ideas of how we can continue to support our local 2SLGBTQ+ communities in new approaches. These alternative ways of delivering goods and services can benefit us in the future, when we are no longer facing a health crisis.

Last, and more importantly – my family. I think it goes without saying that as an Indigenous person, family is the most important aspect of my life. I pray for my relations back home on Carry the Kettle Nakoda Nation, as my community deals with losing our loved ones – we recently lost an elder/ language keeper. I think about my younger cousin, who is struggling to keep hope during a long and vicious battle with cancer. I pray daily for her strength. My heart aches that I cannot be with my family during these times. Dealing with health issues and lost loved ones is tough, but to add in self-isolation and travel bans on top of that is a whole new level of struggle.

To paraphrase FSIN Chief Bobby Cameron comments made last week "We as Indigenous people have survived different traumas, and pandemics before, and we will survive this." Continue to pray, continue to love, and always remind yourself to be grateful. Stay safe out there my relations and when things get tough, find your silver lining.