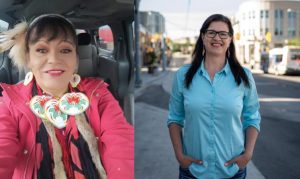 The #Two-Spirit Journal is excited to share the second installment of some of the faces, voices and stories of Two-Spirit people across this land as they are not only coping but thriving during these uncertain times of Covid-19. This series features individuals who were asked to share their personal observations and reflections of the current Covid-19 pandemic; if they are self-isolating, what are they doing to keep themselves busy and what do they miss the most?
In this second installment, Gayle Pruden and Lori Campbell, two amazing, passionate and inspirational Two-Spirit leaders, share how they are reacting and responding to Covid-19.
The Two-Spirit Journal again encourages and welcomes submissions from any Two-Spirit reader who wants to partake in this series, send your responses or questions to [email protected]. The Two-Spirit Journal thanks everyone who has already answered this call and sent in their responses – the Two-Spirit Journal loves the video submission it received today. Keep the responses coming in!
Remember keep and be safe! As Gayle says so beautifully in her post, "Praying, singing, dancing and laughing are my medicine and washing my hands, not touching my face, practicing physical distancing and finally staying home if I'm sick or if I possibly came in contact with Covid-19!"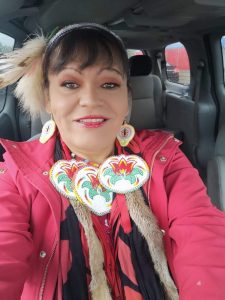 Gayle Pruden, who is Ojibwe and fluent speaker, was raised in Little Saskatchewan community located in central Manitoba, Treaty 2 territory. Gayle is an accomplished public speaker on her Two-Spirit advocacy in the pow-wow community as a jingle dress dancer and her life from childhood to where she is now. Gayle enjoys working with Indigenous youth where her message of "live life to the fullest through creator and ceremony" is always heard and welcomed.
Covid-19 is a mixed blessing, usually I'm so busy, running everywhere and traveling so much. Now, I have all this free time in my big house. It's good that I have all this time to rest; however, the downside of not working is weighing on me. I'm worried about all my bills that are coming due at the end of this month. More importantly, I am missing all personal connection, especially the pow-wow people – no vending and no dancing. Sending them all prayers and wishing they are doing well! This is really tough on my pow-wow family who depend on pow-wows for income and for community. More than every, I'm depend on Creator – I put everything in Creator's hand. As long as I'm breathing everything is okay. If people worry too much of things out their control, it will make them sick. Praying, singing, dancing and laughing are my medicine and washing my hands, not touching my face, practicing physical distancing and finally staying home if I'm sick or if I possibly came in contact with Covid-19!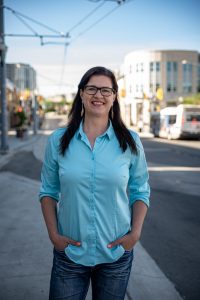 Lori Campbell is a 2-Spirit nēhiyaw atāpihtāwikosisān iskwew. Okawiya mōniyawi-sākahikanihk, Treaty 6 territory in kīwētinohk kisiskāciwan ohcīw. (Translation: a 2-Spirit Cree-Métis woman. Her mother is from Montreal Lake First Nation, Treaty 6 territory in northern Saskatchewan)" and is the Director of Shatitsirótha' Waterloo Indigenous Student Centre (WISC), at St. Paul's University College.
I have been actively engaging on social media, pressuring elected officials to plan and implement pandemic planning for our prisons, women's shelters, homeless population, and Indigenous communities specifically. We all know that Indigenous peoples are over-represented in the former spaces and that will mean that we will disproportionately be affected, and not just those directly, but the extended family and community surrounding them. We are always on the fringes, always the afterthought. Support certainly never comes to us first and is rarely even looked at until after the affluent are taken of.

In addition, I am checking in daily with family members, who are at high risk should they come in contact with Covid19. My mom has Hep C, HIV, COPD, MS, and is in a wheelchair. On the best of days, she does not receive good service from the health system and has been directly told that her current state is of her own doing, rather than critically addressing the colonial violence that has been and continues to be inflicted on our people. She is scared, just like everyone else, but there is an added edge of fear, because she knows she is treated more poorly than others. I was able to see her just before things broke out, and I am so grateful. I live in another province and it is very difficult emotionally. I am grateful to community and friends where my mom is though. I was able to make one social media contact and in a matter of 4 hours I had e-transferred money and had food dropped off at my mom's door.

I also have a nephew and a brother in the prison system. I fear for the support and care they are receiving. Our jails are overcrowded. Worker have to come and out and they are required to be in close proximity to inmates. This puts our relatives at a much higher risk of infection. I am also concerned for their emotional health. Visitations have stopped, but we have not prioritized virtual opportunities for visits. Why not? We are all doing it on the outside. We have access to it and are being told it is important for our emotional well-being. Why are resources not put in place for the inmates so that we can remain connected. They are worried, and rightly so!

Other than that, I am still running our Indigenous student services at the university and working on some research grants. My staff are being creative, working on social media connections, providing support for students, and planning for future programming, trying to keep in mind what our new "normal" may look like. I do a lot of video meetings to check in with everyone. I have also delivered some food to families in need, working with one of our community organizations.

I thought I was a bit of an introvert, but I guess I only am when I want to be. I miss being able to decide when I want my own space! I miss hugs. I miss the land terribly. It is extremely challenging being urban during this pandemic! I have moments of wanting to just run away up into the bush. Two things hold me back: I would be worried about carrying the infection; and I feel like it would be self-centred, and I couldn't provide support to others.